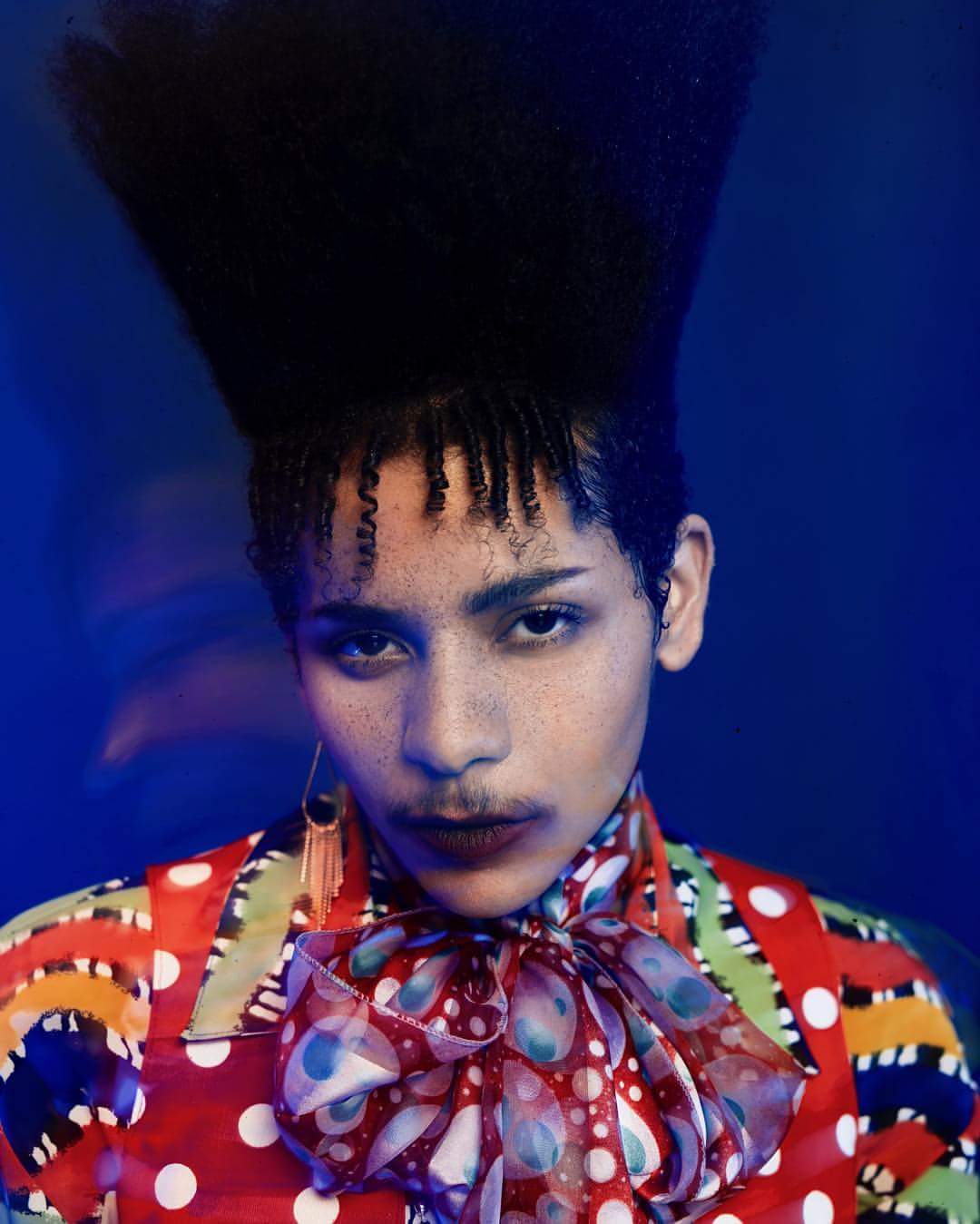 by Wade Wallerstein, with Abigail Best
Photography: Ryan Burke
Last but certainly not least on the list of over-the-rainbow hosts for NO PLACE LIKE HOMO is costume mastermind Archie Goats (aka Archie Robertson). His over the top, maximalist costumes are making waves in NYC's nightlife scene. It's undeniable. Robertson is inimitable—there is absolutely no one else conceptualizing the kind of avant-garde looks that Robertson has been consistently turning out. Just this week, he dressed up as a gargantuan, Victorian-esque red devil monster complete with full headpiece. Always turning heads (more like spinning them all the way around), Robertson is redefining what nightlife performance and identity formation can entail—this is huge, and way more than just character-play. Robertson has transformed not only notions of gender, but also notions of, well, being. Male or female becomes irrelevant when you transcend humanity. On our way down the yellow brick road, we had a chance to talk to Robertson, and learn a little bit more about his creative process.
DRØME: What's the aim of your artistic practice?
AR: In my work I strive to transform the human body beyond any specific identifiable being through wearable art.
 
D: Where did you grow up, and where do you live now? Has this been an influence on your work?
AR: I was born in Harrisburg Pennsylvania, but growing up my family moved all over the East Coast as the size of our household grew. Believe it or not, there are 13 children between my parents! As a result, I never had one place that I considered home, at least not until I moved to NYC on my own to attend college in 2014. Currently, I live in Bushwick with a few other artists who make our shared space a never ending art project, which is a constant source of inspiration.

D: Are you still attending the School of Visual Arts? How has your time there shaped your work?
AR: I've recently completed my third year at SVA, but what I do there is very separate from what I do in my nightlife appearances. I study visual art and actually love to paint and draw which many people don't know about me. Though my costume creations are a different medium, things I've learned about painting still apply. I put a lot of focus on the bigger shapes and silhouettes with my looks before thinking about the small details. Going to school for art also taught me the discipline to be able to invest 12 hours of straight work into one piece, while not being afraid to change directions and start with fresh ideas.
D: What do you consider to be the highlights of your career so far? I want to know everything that you have been and are now most excited about!
AR: Besides what i've done in nightlife, my work has opened up many opportunities for me. It has given me the chance to travel and show what i can do bi-coastal in the U.S. and even more recently In Vienna, Austria for the Life Ball with Susanne Bartsch. The biggest project i've worked on so far was as the lead costume designer for a short fantasy film in L.A. produced by ANIMI Design which is not yet released. It was my first time on such a large working set and a lot of pressure but i loved it and hope to do more work like that in the future.
D: Do you consider yourself to be a fine artist, a costume maker, a fashion designer, or something else entirely?
AR: I consider myself a combination of many things. I'm constantly finding new media to manipulate, and finding ways to incorporate them into my work. I'm a fine artist by way of my paintings, and I consider many of my creations to be more wearable sculptures than costumes. That being said, I also do commissioned costume and wardrobe design for special events and theatrical/film productions so that others may wear my creations.

D: Your work transcends anything we would call androgynous or drag or anything like that, it really feels like you are creating something that is totally separate from traditional forms of costume, even within the LGBTQ community. In a way some of your looks even feel "post-human", which we enjoy a lot. Do you have your own way of describing what your work is or how it fits into things we already have a concept for?
AR: Like most people in the LGBT community, forming my identity took a long process to solidify. Growing up as a biracial person of color with a non-binary gender expression, I never felt that I fit in with any one group or that I had a real voice. This was especially difficult living in very narrow minded towns where there was no LGBT community. I was often treated as an outsider or freak by those around me. I explore these concepts of being an outsider, something you can't completely categorize, and strive to take this to even greater limits. With this concept, I think beyond embodying any type of human form and test how far I can morph my body into fantasy creatures which are often twice my physical size. This is separate from drag as gender presentation or any specific kind of character, which are not relevant to my creative process; but, I still use many drag tools such as makeup and wigs.
 
D: Is there a specific message or concept that you feel is most important to your work?
AR: I feel my work says a lot about who I am in terms of being unafraid to stand out or to be seen as ugly. I feel most people are confined by unfair standards of how they should act or present themselves, but I've found that I can feel just as beautiful and confident dressed as a giant red monster with fangs as someone else might in designer clothes and a new pair of shoes.

D: Are there other artists, either contemporary or from the past, that inspire you and your work?
AR: I gain some inspiration from artists who came before me. Leigh Bowery and Kenny Kenny were always pushing boundaries when it came to representing the human body. Right now, one of my biggest inspirations is make up artist and photographer, Ryan Burke, who puts a strong emphasis on color. We've worked together on many creative projects and being able to bounce ideas off of each other has helped me to refine my work and create things that are more cohesive.
 
D: What's next in the cards for you?
AR: I don't have any specific plan for what's next besides to keep creating. Every week seems to bring many new projects and opportunities to showcase my work in new ways besides what you might see on the dance floor.
 
D: Can we get a teaser of what your NO PLACE LIKE HOMO look will be?
AR: I can't give away my look yet, one of the fun parts of dressing up is to surprise everyone with what in the world i'm gonna wear next.
You can learn more about Archie by following him on Instagram: @archiegoats. Our NO PLACE LIKE HOMO Pride party will take place this Sunday, June 25 at Good Room, BK. You can buy tickets here.
You can learn about the other hosts of NO PLACE LIKE HOMO here: Nicky Ottav, Kyle Farmery, and Lee Armoogam