Text and event photos by MI Leggett
Lookbook courtesy of NUANCE
On Saturday March 3rd, NUANCE hosted "Neon Jungle," a Hip Hop/R&B event at Trans-Pecos, the avant music venue and community resource center on the border of Ridgewood and Bushwick. NUANCE, in their own words, is a collective of artists of color with diverse cultural and international backgrounds that strives to decentralize arts and culture from a predominantly white, western, and masculine point of view into one that is more inclusive through projects that celebrate otherness as a strength. This particular event, or rather art intervention, featured a variety of media and showcased the talents of many young artists in a wholly immersive environment. Headliners included Nitty Scott, Alex Mali, Josh DST, Black Glitter, and Yung Mayne. The complete ambiance stayed true to its name, featuring a striking combination of Indonesian masks and neon lights, as well as juxtapositions of urban and natural elements, such as plants interwoven with construction plastic.
DRØME caught up with Nuance's Co-Founder Nabila Wirakusumah to learn more about the NUANCE and the concept behind their recent event.
DRØME: What inspired the concept and set design for "Neon Jungle"?
Nabila Wirakusumah: The concept actually came about from a writing piece I did during my last year of college. The piece was kind of my last homage to my adolescence and to a period of time in my life where I was in a really dark place. It was my last attempt at coming to terms with it, and recognizing that this probably won't be the hardest thing I'll go through. It was my way of moving forward.
During high school I was living in Hong Kong. One of the chapters of the larger piece was called "Neon Jungle," and took its inspiration from the city itself—Hong Kong is partly dense, claustrophobic masses of concrete and neon, and part jungle. Within a ten minute car ride you'll transition from rolling hills with wild boars traipsing around the roads to being trapped between massive, monolithic public housing complexes.
Even in the city though, you see the wilderness creeping in; Banyan tree roots snaking through concrete, mongoose running along the tops of chain-link fences...things like that.
When I saw Nitty Scott's video for "La Diaspora" I knew the themes I addressed in "Neon Jungle" would fit perfectly with her aesthetic. I also loved the message—I felt as though it was really in line with NUANCE's ethos. Though the writing piece was addressing something really painful for me, I loved the juxtaposition between city and wilderness. It's something I really feel back home in South East Asia, and not something I see here.
I thought it would be a great way to bring a bit of home into my world in Brooklyn. I also think there's value in taking pieces of something I wrote out of pain and turning it into a joyful event.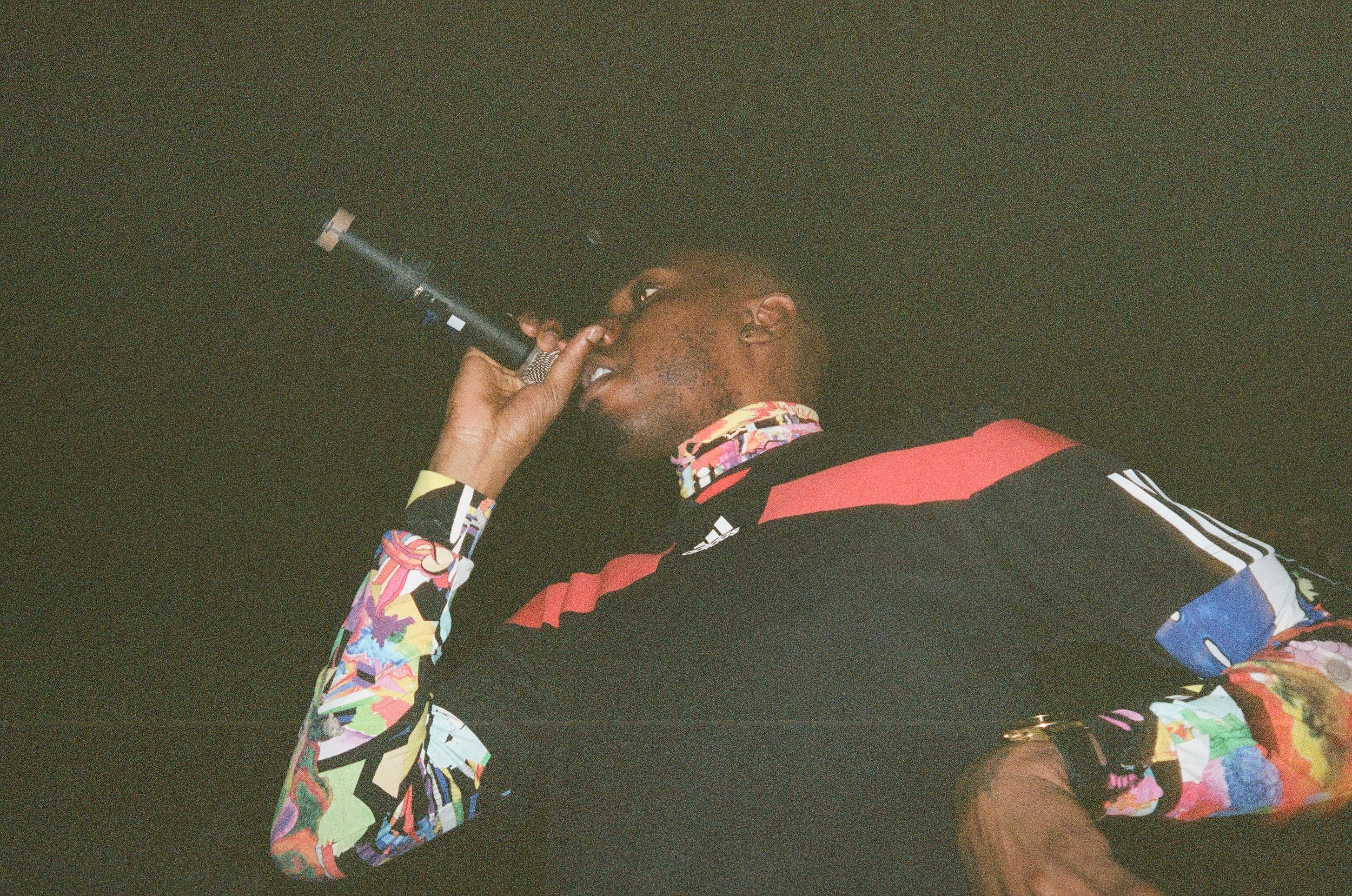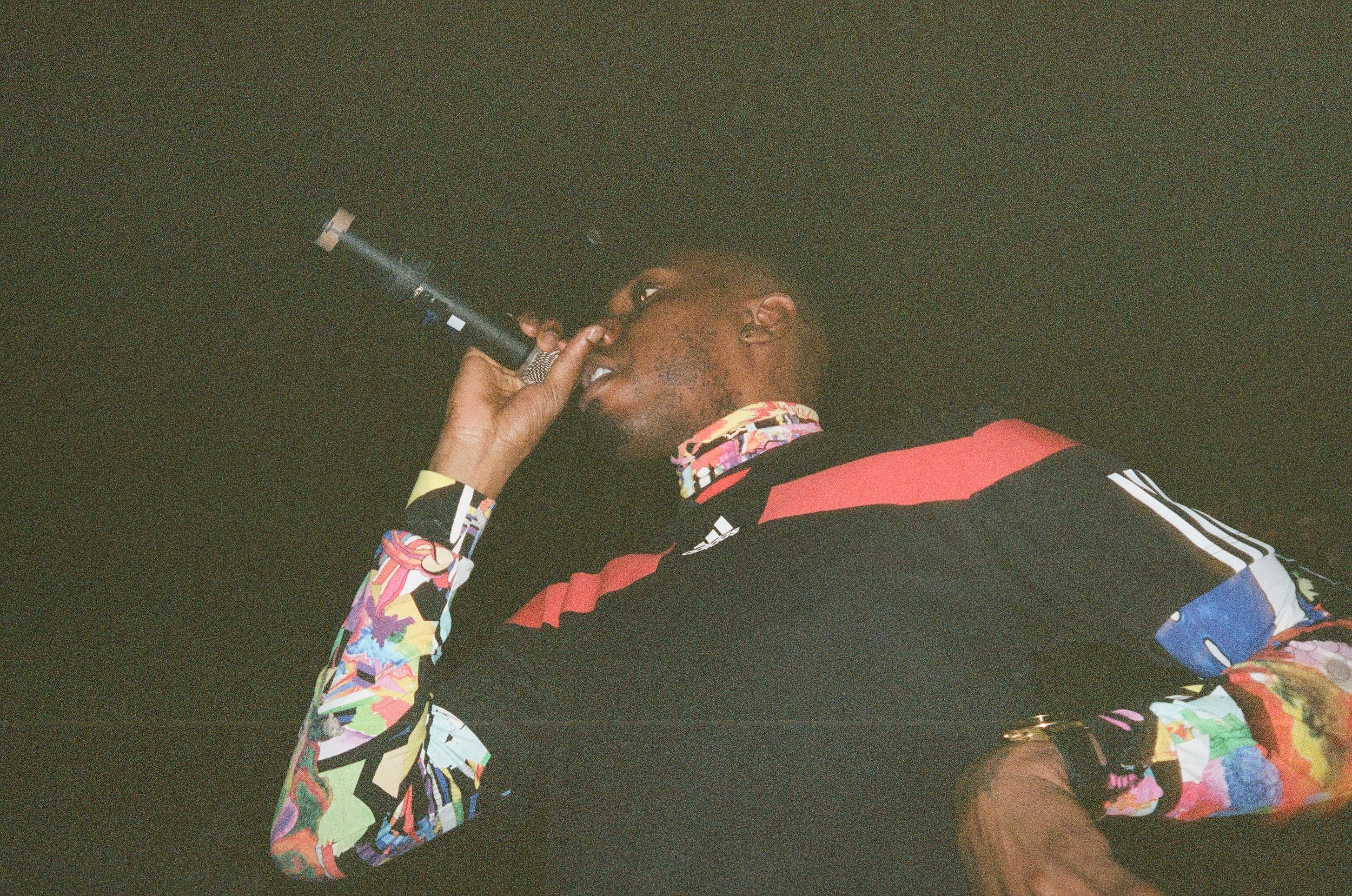 It was also important for us to include Indonesian and Zambian crafts into the event and the set. The masks used were from a village near Bogor, Indonesia where my older sister studied endangered rhinos. The masks are used for plays and traditional storytelling. For the look book, we mixed Indonesian and Zambian textiles with contemporary pieces for a similar juxtaposition as we had in the set design.
How did NUANCE get started? Did you always have a clear idea of what you wanted to accomplish with it?
NUANCE started as a series of conversations Mwinga and I had in the summer of 2016 leading up to the elections. During every conversation—whether it was on women's rights, racial politics, or art—we found ourselves frustrated at the lack of a global perspective, even in the narratives presented by our peers or the media. We always wanted NUANCE to decentralize these Western-centric point of view, and that has remained constant. But everything else has definitely shifted here and there. NUANCE has had an identity crisis, to say the least.
A little over a year ago, we had a NUANCE launch party on the Sarah Lawrence College campus, where it all started for us.
When we launched, we envisioned NUANCE as a network for artists of color in all mediums, where we could share and help create each other's work. We started as a branch under SLC's Dark Phrases magazine for students of color. But the more active we became in the real world, outside of SLC, the more we felt we weren't equipped to take on that mission. Outside of the constructs of class shows and critiques, we were barely artists ourselves.
To be completely candid, Mwinga and I were struggling to find a way to stay in New York past our student visa expiration date. After meeting with an attorney, I discovered that the stronger our careers were as artists, the more likely we'd be allowed to stay. That's an oversimplification of the process, but I realized that through our friends, NUANCE could become a team of artists willing to be a free resource to each other when it came to our more ambitious projects. We each have our own areas of expertise and I knew the work we'd do together could really transcend the quality of our work individually.
Right now NUANCE officially consists of Mwinga and I, Amaris and Richard (Black Glitter), and a rotating cast of incredible friends who have helped us along the way.
What's next for NUANCE?
We're figuring it out! We're all on different paths as artists. I spearheaded "Neon Jungle" with the help of my partner, Luke, who handled booking all the artists, and I convinced him to give Black Glitter their debut moment—which they absolutely destroyed. I was so proud to see Rich and Amaris do their thing on stage. I expected them to be amazing, but they somehow blew me away even more than I thought they would.
I'd like to give the other members of NUANCE a chance to spearhead their own projects. At the end of the day though, I think I'm going to let it happen organically. And it will, because we're all excited creatives who always have a million projects cooking up in our heads. We're also meeting other artists of color every day whose projects may end up being the one we pick up. Who knows.
But NUANCE came about because Mwinga and I needed it to, in order to feel heard. In order to validate our own work, and the work of other artists of color whose vision we felt wasn't being properly recognized. Later, we needed NUANCE as a team in order to step up our careers and help us secure our future in New York. And a team like this is built on love, as cheesy as that sounds. I spent the tail end of "Neon Jungle" in the green room crying because of how grateful I was for my team, who gave me their sweat, time and labor for free. It wouldn't have been possible if there wasn't love there.